✓ Our delivery service is still running as usual.
To limit physical contact during the current COVID-19 outbreak, we are now offering contact-free delivery.
Our Home Delivery Team will maintain a minimum distance of two metres at all times when delivering your goods into your property, and will ensure the hand-held devices are wiped down with antibacterial wipes prior to you signing for your delivery. Orders may now also be delivered up to 9pm in order to ensure we are able to fulfil all of our orders with our in-house delivery vans which have been customised to protect our staff.
If you are self-isolating, please inform us prior to your delivery by emailing sales@chippyshop.co.uk or calling 03454 630 172 and selecting option 2. Our Home Delivery Team will deliver your goods to the nearest available point to the entrance within your property to minimise the time they are on the property. This is to protect both our customers and Home Delivery Team in our effort to limit the spread of COVID-19.
Here at The Chippy Shop we take great pride in ensuring that your worktops and accessories can be delivered to you promptly and securely. Below we've explained the available delivery options on offer, which are free for orders over £50 in our standard delivery areas. If you don't yet know when you're going to need your items delivered, just give us a call at a later time to organise delivery. Please note that for next day deliveries, orders must be received before 12 noon.
The following delivery options are available, but must be requested once your order payment is processed and we contact you to organise a suitable date and time:
Worktops
Delivery Option 1: Two Man Service
To give you the most peace of mind when placing your order, we always recommend our own two man delivery. This service runs Monday to Friday between the hours of 7:30am and 18:00pm; we'll give you a two hour time slot that will be allocated the day before delivery, and even call you 30 minutes before the courier is due to arrive.
Our delivery team use reusable packaging where possible to ensure your worktops are kept in top condition whilst in transit, and they'll also happily remove all other packaging before allowing you to inspect the items before signing for them. Please make sure you've prepared a suitable place for us to deliver the goods to on the ground floor of the property, as our team are not allowed to go up or down stairs; the route must also be free of any obstructions.
Delivery Option 2: Saturday Delivery
If you require delivery on a Saturday, we recommend our One Man Saturday delivery option. This service is operated by our own in-house delivery team, and covers a variety of postcodes between 07:00am and 15:00pm on Saturdays, if your order is placed before 12 noon the day before. You will receive a two hour time slot the day before your delivery is due, and the driver will call when en route to your location. Please note that this delivery option will incur an additional charge.
As this service is a one man service, an able-bodied person will need to be available to assist the driver in unloading your order to a ground floor location of your choice.
Currently available to the following postcodes:
B
BA
BS
BH
CF
CV
DY
GK
GR
IX
NP
RG
SA1-20
SN
SO
SP
WR
WV
WS
Delivery to Surcharge Areas
If you live outside of our two man delivery area, we are able to offer an alternative courier service. Please contact us if you require any additional information.
Upstands & Other Large Items
For large items that cannot be delivered cost-effectively by our own service such as upstands, we offer an overnight delivery service with a variety of timeslots between 8am and 6pm. Saturday delivery options are also available at an extra cost.
Medium Items
Medium-sized items are available on a courier service that requires the goods to be signed for once received. Deliveries are made between 8am and 6pm during the week and on Saturday, with a range of timed next day and value services. Leave us your details and we'll send you an SMS and Email notification 1 hour prior to delivery. Prices start at £7.50.
Small Items
If you're ordering smaller items, we will deliver them to you on a courier service that requires the goods to be signed for upon receipt. We have a range of delivery services available that are made between the hours of 8am and 6pm during the week and all day on Saturdays. Leave us your details and we'll send you an SMS and Email notification 1 hour prior to delivery. Prices start at £7.50.
Additional Delivery Charges
Delivery charges are calculated on a per-product basis. Please make note of the delivery charges associated with each item.
All prices stated on this website are for Mainland UK, and contains all areas shown in Zone 1 on the map below. For extended rates, please see below or contact us for a quote if you are unsure of the price.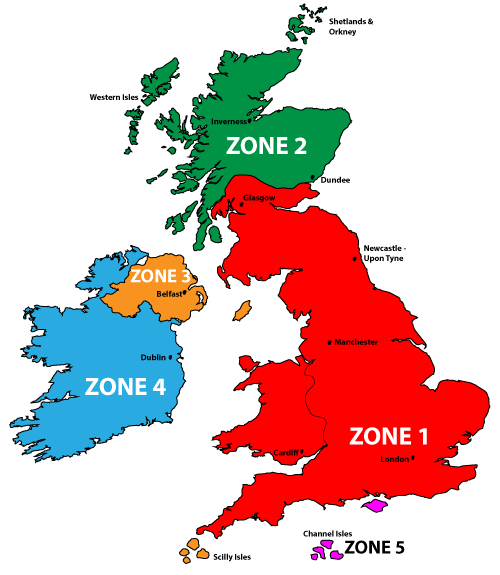 Zone 1 - UK Mainland
'A' Service (Next Day*) : £7.50 for large items (Up to 25kg), and £5.00 for smaller items (Up to 5kg).
Zone 2 - Highlands and Islands
'A' Service (Next Day*) : £20.00 per consignment upto 10kg and 75p/kg thereafter.
Zone 3 - Northern Ireland
'A' Service (Next Day*) : £25.00 per consignment upto 10kg and 75p/kg thereafter.
Zone 4 - Southern Ireland
'A' Service (Next Day*) : £35.00 per consignment upto 10kg and £2.00/kg thereafter.
Zone 5 - Channel Isles
'A' Service (Next Day*) : £45.00 per consignment upto 10kg and £1.50/kg thereafter.
Offshore Islands surcharge: £20.00 per consignment, Minimum charge 20kg. Please note that this is a surcharge, in addition to the standard UK Mainland rate.
DISCLAIMER
This pricing does not include Wooden Worktops. Please contact us directly for a quote if you wish to purchase Wooden Worktops and are not in Zone 1.
The pricing is correct at time of print, but is subject to change at our discretion. You will be notified immediately of any changes to the above if it affects any order awaiting delivery that you have placed with us, and you will be asked whether you wish to proceed with the order, or cancel the order for a full refund without charge.
Please note: next-day delivery/48 hour delivery is only available for worktops and accessories ordered before 12 noon (restrictions corresponding to delivery area may also apply; please enquire for more details).
We will contact you to confirm the delivery; however, if urgent delivery is required, please call us after payment had been made to enable the quickest possible despatch of your items.